Vehicle Signage
Turn your vehicle into a portable marketing machine.
The Big Picture Factory can design, produce and install a variety of signage options for your vehicle.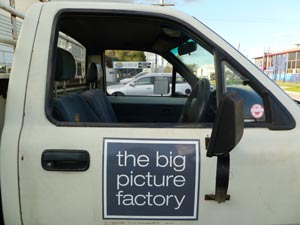 Magnets
Removable signs that can be easily placed on the panels of vehicles during working hours and then simply be lifted off during private hours. It also allows the switching of signs from one vehicle to another.
From BMWs to battered utes, this is an affordable signage option.
One way vision for windows
Full colour advertising on your vehicle windows. The added advantage is that it screens the interior of your vehicle from prying eyes whilst from the inside retaining your vision out . An excellent and economical advertising medium.
Decals
Vinyl-cut lettering, logos, or images in all colours (including gold and silver) custom-designed to fit any area of your vehicle.
The lettering, logos or images are cut out precisely and do not have any background for a neat finish.
What Do You Need to Provide?
Choose from the following options:
Provide us with your electronic artwork by email, on a thumbdrive or on disc.
Provide us with your requirements and logos and we'll do the artwork for you.
Can't decide what would look best for your signage? One of our creative and knowledgeable team members can suggest options for you.
For further information, for a quote or to place an order please email or phone (08) 9478 2611.