Photo Trophies...
Why not give unique trophies to your sporting club award winners?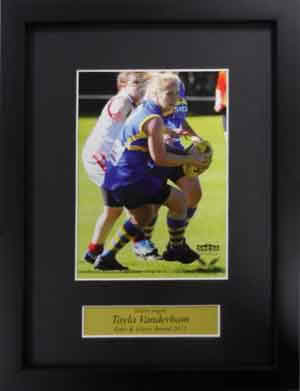 At The Big Picture Factory we offer a stylish and memorable alternative to the standard plastic trophy.
We can professionally frame a photo of the winner, together with a silver or gold plaque displaying the winner's name, the details of the award and your club's name. We can even incorporate your club's logo on to the photo if you choose.
Alternatively, we can frame a photo of the whole team or the club's logo... this could be a particularly good option if you don't have a photo of the individual winner(s).
Our photo trophies provide a dual purpose… as well as a trophy they are a lasting memento. They don't take up any shelf space and are more likely to be kept displayed than a regular trophy. As such, they are likely to be more highly treasured by your members.
Give them an award they'll actually treasure!
A trophy and a treasured keepsake
Easy for the club to organise
The standard size is A4 (297mm high x 210 mm wide) plus the width of the frame. The size of the photo will be 7 x 5 inch (178mm high x 127mm wide). As standard we use a black matt and black frame, but other colours and frame styles are available on request. Alternative sizes are also available.
What Do You Need to Provide?
Choose from the following options:
Provide us with digital photo(s) for us to print, as well as the details you would like on the plaque(s).
Provide us with printed photo(s), as well as the details you would like on the plaque(s).
Can't decide what would look best for your item? One of our artistic and knowledgeable team members can suggest options for you.
For further information, for a quote or to place an order please email or phone (08) 9478 2611.