Unique Materials as Frames
You name it, we frame it!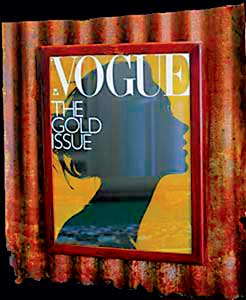 The Big Picture Factory can custom frame anything, at any size!
With an extensive range of framing materials we can professionally frame your photos, artwork, memorabilia, certificates, awards and anything else you would like to display.
For a unique frame we can use exotic or common materials as frames.
This Vogue cover is framed in used jarrah (a Western Australian Hardwood) and mounted on old corrugated iron rescued from the Western Australian wheatbelt.
What Do You Need to Provide?
Choose from the following options:
Provide us with your digital photos or images by email, on a thumbdrive or on disc for us to print and frame.
Provide your original print or item for us to frame.
Bring in photos or images for us to scan and re-print if you don't have a digital copy and you want multiple copies or a change in size.
Provide an old or damaged photo or image for us to restore, print and frame.
Let our professional photographer do the photography for you.
Can't decide what would look best for your item? One of our artistic and knowledgeable team members can suggest options for you.
For further information, for a quote or to place an order please email or phone (08) 9478 2611.