Name Badges
Let us take care of your name badges for your next conference or event

The Big Picture Factory can design and print name badges. We can print the name badges in black and white or full colour - allowing for you to add company or event logos.
The name badges are provided to you pre-inserted in their holders - either pin on or clip on. We also offer the option of stick-on name badges that stick well to clothing, without damaging the clothing at all.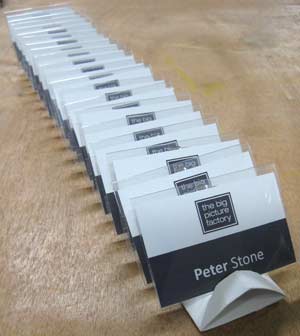 Provided to you in alphabetical order
We are always looking for ways to make your life easier...
As we understand the hassle of sorting the badges into alphabetical order at the event, we have designed simple holders for the name badges and will provide them to you in alphabetical order.
You can leave them in the holders or take them out and spread them on the table as usual.
There is no minimum number required for orders.
We can either create your artwork, modify existing artwork, or simply print directly from your existing artwork. If you provide us with your database and requirements we can do the rest.
As we know organising events can be stressful and numbers and names may change at the last minute, we will do everything we can to get your name badges ready with short notice, if required.
What Do You Need to Provide?
Choose from the following options:
Provide us with your electronic artwork by email, on a thumbdrive or on disc.
Provide us with your requirements and logos and we'll do the artwork for you.
Provide us with a database of names, ideally in Microsoft Excel or Access.
Can't decide what would look best for your item? One of our creative and knowledgeable team members can suggest options for you.
For further information, for a quote or to place an order please email or phone (08) 9478 2611.