Training or Policy Manuals and Folders
We can help your business and staff to get organised
At The Big Picture Factory we can produce your training or policy manuals or folders to help to improve staff competence, organisation and productivity. Let your staff know you take your training and policies seriously with professional manuals or folders.
Options available include:
Full colour or black and white
Various stock - paper or card of various thicknesses
Standard sizes available such as A4 or any custom size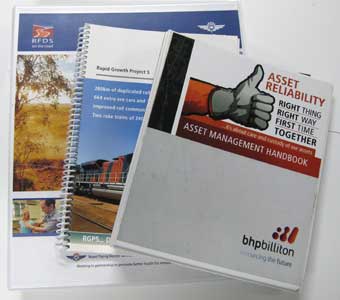 There is no minimum number required for orders.
We can either create your artwork, modify existing artwork, or simply print directly from your existing artwork.
What Do You Need to Provide?
Choose from the following options:
Provide us with your electronic artwork by email, on a thumbdrive or on disc.
Provide us with your requirements and photos and we'll do the artwork for you.
Can't decide what would look best for your item? One of our creative and knowledgeable team members can suggest options for you.
For further information, for a quote or to place an order please email or phone (08) 9478 2611.