Scientific Posters
Getting your poster to the conference just got easier...
Forget struggling with poster tubes when traveling to your next conference!
At The Big Picture Factory we can print your poster on one of of our foldable, light-weight banner materials. They print beautifully with bright, vibrant colours.
Printed with latex inks, these posters will be UV and water resistant. They will have an outdoor life in full UV light of about 3 years.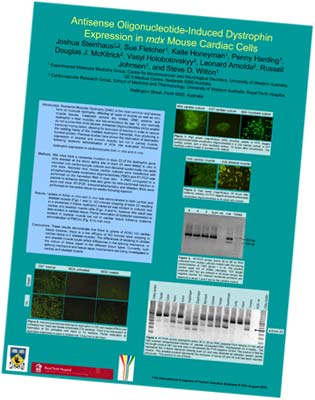 The Lightest Option...
Ritz Banner - An incredibly light-weight cloth material that is easily folded to fit any bag.
Creases can be easily ironed out with your motel room's iron.
The silk-like surface reduces glare and reflections.
It weighs just 130 grams per square metre i.e. 7 posters weigh just under one kilogram.
he 'Not a Fan of Ironing' Option...
Banner Vinyl - A light-weight, crease-resistant matt vinyl banner material that doesn't require ironing after folding.
The material has little "memory" and when it has been folded or crushed, creases will usually "fall out" within an hour when it is unfolded or laid flat - no need to iron.
The matt surface reduces glare and reflections.
It weighs only 440grams per square meter i.e. 2 posters weigh under a kilogram.
We know how busy you are...
We aim to have the posters ready within 24 hours but will always try our absolute hardest to accommodate your last minute rush. We offer a courier service to deliver the poster to you the next day. As an added benefit, if you are running late, we are very close to the airport to pick up your poster on the run.
Contact us for a sample of our material or a quote
What Do You Need to Provide?
Choose from the following options:
No time to design it yourself? We can help there too. All we need are the words, pictures, charts and tables and we will professionally design your poster and return a PDF file or an A3 print for your approval before printing. The PDF can also be used on your website or emailed to your colleagues.
Can't decide what would look best for your poster? One of our creative and knowledgeable team members can suggest options for you.
For further information, for a quote or to place an order please email or phone (08) 9478 2611.