Moveable Signage
Help your business to be noticed and attract traffic to your business or event with moveable signage.
The Big Picture Factory can produce or supply various types of movable signs for pavements, walkways, front verges or any other place you need them.
Some of the options available include:
A-frames
A common, movable signage option to get you noticed.
The standard size is 900 x 600 mm but other sizes are available
Choose from the following options:
Metal with printed vinyl laminated to the surface
Metal with slip-in printed corflute for easy and economical updating or rotation of signs
Aluminium with snap locking mechanism to hold graffic in place - leight-weight so could be a good indoor option
Roster Signs
These are the folded triangular signs that rostered fuel stations used to use. They are manufactured from corflute with a vinyl overlay. Being inexpensive, these light-weight signs are good for short-term use. They can be manufactured to custom sizes with the following sizes as standard: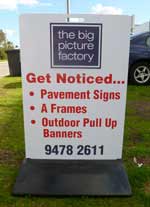 Informa Pavement Signs
A cost effective display solution. These signs are:
Easily moved, packed up and stored
Ideal for shops, restaurants and hotels
The standard size is 900 x 600 mm but other sizes are available
Bases are made from water fillable, hard-wearing plastic that does not fade or crack with sunlight
Welded Steel Signs
Available in any shape and size you require.
Aluminium Signs
A light and easy to move signage option available in any size or shape.
In order to protect your signs we can add an anti-grafitti covering if desired.
Various options are available for outdoor or indoor use.
What Do You Need to Provide?
Choose from the following options:
Provide us with your electronic artwork by email, on a thumbdrive or on disc.
Provide us with your requirements and logos and we'll do the artwork for you.
Can't decide what would look best for your signage? One of our creative and knowledgeable team members can suggest options for you.
For further information, for a quote or to place an order please email or phone (08) 9478 2611.