Safety Signs
Is safety a priority for your company or project?
At the Big Picture Factory we can produce safety signs for your company on various materials.
We can ensure you choose the ideal custom selected material:
Foam - Great for inside use.
Corflute - Weatherproof material suitable for outside use. Available in 3mm or 5mm thicknesses.
MDF - Medium density fibreboard (a wood product) great for blockmounting signs.
PVC Rigid - A light-weight, waterproof signage option available in 1mm, 2mm, or 3mm thicknesses.
Alucabest - A composition of PVC and aluminium. Light and perfect for outside use. Available in 2mm, 3mm, or 4mm thicknesses.
Sign White - Powder coated steel - 0.55mm thick. Generally used for signage attached to buildings.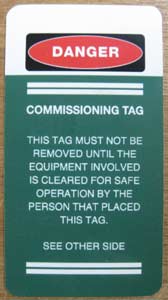 In addition to safety signs we can also print safety tags for your machinery.
In order to protect your signs we can dd an anti-grafitti covering if desired.
What Do You Need to Provide?
Choose from the following options:
Provide us with your electronic artwork by email, on a thumbdrive or on disc.
Provide us with your requirements and logos and we'll do the artwork for you.
Can't decide what would look best for your signage? One of our creative and knowledgeable team members can suggest options for you.
For further information, for a quote or to place an order please email or phone (08) 9478 2611.