Books
From one copy to thousands, we can manufacture your books
The Big Picture Factory has experience in the design and manufacture of either thousands or small-runs of a wide range of books.
What books can we produce?
Examples of the types of books we have produced include: text books, annual reports, manuals, play scripts, novels, family history books, photo books, music books, diaries, reports, proposals, school year books, office histories, poetry books, the list goes on...
If you want it, we can print it.
Binding Options
There are various forms of binding, depending on the type and needs of clients:
Saddle Stitched
This is the technical name for stapled!

This method is primarily used for books consisting of a small number of pages - up to approximately 8mm thick.
Perfect Bound

A 'typical' style book, where the the pages of the book are attached to the spine of the cover.

The perfect solution for books such as novels, text books and play scripts.
Wiro Bound
The pages of the book are punched and bound with a coated-wire spiral spine.

For use where it is preferable to have books easily lay open on a desk leaving the hands free, such as reports, work manuals, and music books.

Plastic Spiral Bound

Similar to wiro binding, the pages of the book are punched and bound with a plastic spiral spine.

For specific applications where wire is not desirable.
Docket Books and Purchase Order Books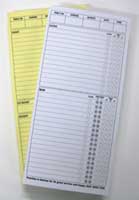 We can also produce individually numbered and perforated docket and purchase order books. These can have carbon copy sheets in varying colours.
For further details please refer to the Docket Books and Purchase Order Books section.
We can either create your artwork, modify existing artwork, or simply print directly from your existing artwork.
What Do You Need to Provide?
Choose from the following options:
Provide us with your electronic artwork by email, on a thumbdrive or on disc.
Provide us with your requirements and words and we'll do the artwork for you.
Can't decide what would look best for your item? One of our creative and knowledgeable team members can suggest options for you.
For further information, for a quote or to place an order please email or phone (08) 9478 2611.