Custom Printed Doors
An artistic feature in your home or a utilisation of vertical space for marketing your business
We can print any image, design or photograph and install it on to your cupboard or room doors.
In your home
Create an interesting focal point in your home with a photograph or design on your cupboard or room door. This can be a distinctive way to express your creativity in your home or office.
In your office / shop / restaurant
Custom printed doors are a different means of utilising otherwise wasted space in order to increase the marketing potential in your business. Unique ways to draw attention to our companies, products and services are always welcome. A door, custom-printed with your company logo or details of the products or services you offer, is a creative way to market or advertise.
On your theatre set
Photographs or designs can be printed on to doors which can be opened or closed. These can be used for simple and creative set changes. Refer to our theatre set page for more details on how else we can help you with your set.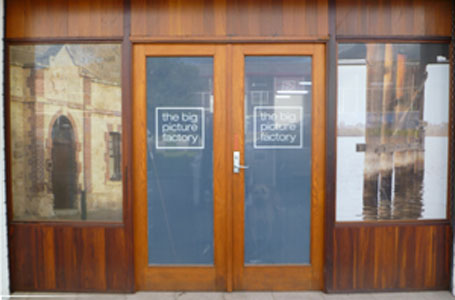 Glass doors
Photographs or designs can be printed on to one way vision and stuck to the glass of your doors. From the inside, you can see out and sunlight can come in. From the outside, people see your image/logo without seeing in - giving you some extra privacy. Refer to our window signage page for further window signage options.
What Do You Need to Provide?
Choose from the following options:
Provide us with your electronic artwork by email, on a thumbdrive or on disc.
Provide us with your requirements and and we'll do the artwork for you.
If it is a photo you wish to have printed on the door:

Provide us with your electronic photos by email, on a thumbdrive, or on disc.
Bring in photos for us to scan if you don't have an electronic copy.
Provide an old or damaged photo for us to restore.
Let our professional photographer do the photography for you.
Can't decide what would look best for your item? One of our creative and knowledgeable team members can suggest options for you.
For further information, for a quote or to place an order please email or phone (08) 9478 2611.