Children's Artwork Displays
Is your children's artwork buried in boxes or stuck on walls with sticky tape?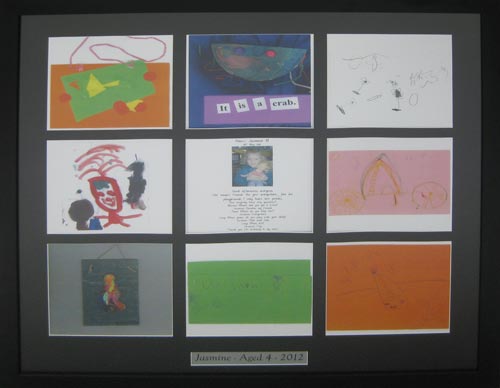 The Big Picture Factory can create a lasting montage of your child's artwork to treasure forever.
By scanning or photographing your child's artwork we are able to re-size the pieces for custom framing. Choose your favourite pieces of artwork and we'll take care of the rest. You are not limited to pieces of art on paper - we can use 3D pieces as well.
Rather than having a box full of artwork that is never looked at, or paper taped to walls, preserve your child's artwork and put it on display.
We can add titles to the montage such as the child's name, year and age. If you like we can even add an individual description of each piece of artwork.
If you have a single favourite piece of artwork that you would like framed (rather than a montage) of course we can do this for you to.
Framing Options
The framing materials available include:
Using state of the art technology we can custom design matts to give a designer finish with multiple openings, complex shapes and multiple matts. For more details refer to the Computer Matt Cutting section.
What Do You Need to Provide?
Choose from the following options:
Bring in child's artwork for us to scan or photograph and re-print for framing.
Provide us with digital photos or scans of your child's artwork by email, on a thumbdrive or on disc for us to print and frame.
Provide your child's original artwork for us to frame.
Can't decide what would look best for your item? One of our artistic and knowledgeable team members can suggest options for you.
For further information, for a quote or to place an order please email or phone (08) 9478 2611.