Mail Merges & Direct Market Advertising
Let us take care of your mail merges and direct market advertising
Are you looking to send a letter or flyer to your clients but are unsure how to professionally personalise each one? We can design and print your items, personalised for each person/company, and also print your personalised envelopes or address labels.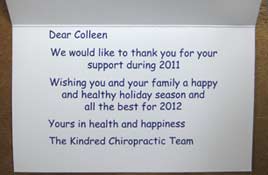 Various options are available including:
Full colour or black and white letters
Various stock - paper or card of various thicknesses
Envelopes - pre-printed with individual names and addresses
Provide us with your database and we can print an individual card for each person, family or couple.
There is no minimum number required for orders.
What Do You Need to Provide?
Choose from the following options:
Provide us with your electronic artwork by email, on a thumbdrive or on disc.
Provide us with your requirements and logos and we'll do the artwork for you.
Provide us with a database of names, ideally in Microsoft Excel or Access.
Can't decide what would look best for your item? One of our creative and knowledgeable team members can suggest options for you.
For further information, for a quote or to place an order please email or phone (08) 9478 2611.