Stickers - Standard or Personalised
We can make stickers of any size for any use

The Big Picture Factory can design and print customised stickers for any purpose imaginable, whether it be for business or private use. The stickers can be any size (unlimited length by a maximum of 1500 mm wide). Order from one sticker to thousands.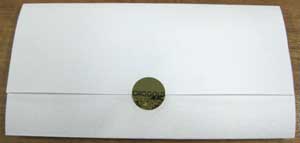 Examples of the stickers we make include; small return address labels in any colour, huge stickers for building window signage, a one off slogan for a car windscreen, and personalised stickers for sealing folded ignitions (see example).
We are even able to print photos to stickers. For example we have previously printed photos of a Dad's children to stick on his bicycle so he can be reminded of his kids when riding. What a unique Father's Day present!
Iron-on transfers for clothing
We can produce stickers that can be ironed on to clothing - either images, logos or words.
These can be ordered in bulk or as individual stickers.
Iron-on-transfers can be used for logos on team shirts or with fun wording for events such as a club functions, group trips or birthday celebrations.
Vinyl-cut-lettering, logos or images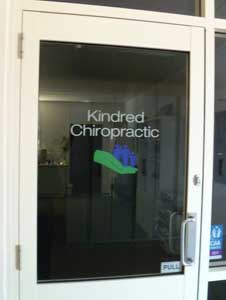 Letters or images can be cut out precisely without any background. This allows you to stick your words or images directly to materials such as windows. This is ideal for business building or vehicle signage.
We can also make one-off customised stickers for personal use such as a slogan for a car windscreen or the back of a caravan. Please refer to our window signage and vehicle signage pages for more details on either of these items.
Self-adhesive with variable data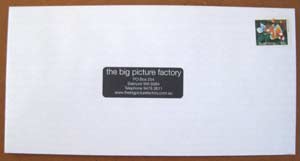 Using our variable data techniques we are able to produce multiple stickers, each individually named or numbered.
A common use for this is for address labels for postage. However, there are multiple uses such as individually numbered stickers for parking permits for car windows, as an example.
Please refer to our variable data page for more details on this service.
Various options are available including:
Full colour or black and white
Any custom sizes - from tiny to huge (unlimited length by 1500 mm wide)
Various stock - from paper to vinyl
There is no minimum number required for orders.
We can either create your artwork, modify existing artwork, or simply print directly from your existing artwork.
What Do You Need to Provide?
Choose from the following options:
Provide us with your electronic artwork by email, on a thumbdrive or on disc.
Provide us with your requirements and logos and we'll do the artwork for you.
If it is a photo you wish to have printed on the cards:

Provide us with your electronic photos by email, on a thumbdrive, or on disc.
Bring in photos for us to scan if you don't have an electronic copy.
Provide an old or damaged photo for us to restore.
Let our professional photographer do the photography for you
If you are having individual names printed on the stickers provide us with a database of names, ideally in Microsoft Excel or Access.
Can't decide what would look best for your item? One of our creative and knowledgeable team members can suggest options for you.
For further information, for a quote or to place an order please email or phone (08) 9478 2611.